LMS Girls Cross Country
about 1 month ago
On Saturday, in the wind and the rain, the LHS and LMS Panther cross country teams traveled to Anahuac for the AP Meet. Despite the conditions, the Panthers racked up the awards. The Panther Varsity took 2nd place as a team behind a strong 8th place finish by freshman Angel Ruiz. Panther junior, Mario Lopez paced the JV with a first place individual performance that resulted in a first place team finish. David Gerardo, Abdiel Garcia, Alejandro Montes and Emanuel Lopez also medaled for the JV team. Junior, Esmeralda Mares, led the Lady Panthers to a first place team finish. Tamia Banks, Kennedy Evans, Emalee Villarreal and Miryam Valencia had medal finishes for the varsity Lady Panthers. All six JV Lady Panthers had a medal finish and took first in their division as well. The JV Lady Panthers team consisted of Aliyah Banda, Lali Garcia, Ashlie Torres, Reagan Williamson, Marielena Rodriguez and Kaitlyn Frankum. The LMS boys team took first place with 4 individual medal finishes by Damian Guzman, Landon Curry, Trace Heifner and Bruno Aleman. The LMS Lady Panthers had another strong showing with medal finishes by Julia Gerardo, Julianne Shivers and Kaylee Hernandez. The Panthers are at home this coming Saturday, September 29th, for the annual Tony Munson Liberty Cross Country Invitational. The first race starts at 8 am at the Liberty City Municipal Park. Go Panthers!!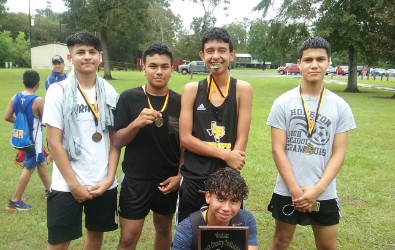 LMS Girls cross country
September 17, 2018
On Saturday the Liberty Middle School cross country teams traveled to Dayton for the Bronco Invitational where the Lady Panthers placed first overall. Four of the seven lady Panthers finished with a medal, led by Reese Evans (3rd place) and Bailey Slack (4th place). Julianne Shivers (top 20) and Julia Gerardo (top 25) were the other medal winners. Kaylee Hernandez (top 35), Mariah Lopez and Alexis Smart also contributed to the first place finish. The Lady Panthers were in a field of 192 runners and 19 teams.
The LMS boys team also represented well. Damian Guzman (8th place) and Carson Williams (21st) had medal finishes. Landon Curry (top 35) and Bruno Aleman (top 60) rounded out the LMS boys team. The LMS boys were in a 163 runner field.
Next week the cross country team will travel to Anahuac. Go Panthers!!

Joe Roberts
Liberty HS Theater Arts Director
Head Boys Soccer and Cross Country
Pictured from L to R are:J. Shivers, J. Gerardo, K. Chandler, R. Evans, B. Slack, L. Smart

The LMS girl's cross country team competed in the cardinal classic this past Saturday. They had an impressive meet, and came away winning first place as a team. Individual medalists were: 1st Bailee Slack, 2nd Reese Evans, 4th Julianne Shivers, 7th Julia Gerardo and 9th Kamdyn Chandler. The next meet will be in Dayton on September 15th.